Airbus A320 full-motion simulator
Ostend
5.0 (7)
Fly in a professional simulator. This flight simulator moves while flying, so you can 'feel' the plane.
Have you always wanted to know what it feels like to be at the wheel of an Airbus A320? You can become the pilot yourself! Come fly in our Airbus A320 full motion simulator. This simulator moves along while flying. Come to the west coast of Belgium to follow this flying lesson.
Together with family and friends
There is room for a maximum of 5 people on board of the simulator. So you can enjoy this special experience together with your family or your friends. During the flight you can change your student pilot, without extra costs. This simulator flying lesson is suitable for both beginners and experts.
Full-motion simulator
The cockpit is not only an exact copy, all buttons and instruments work as in real life. And the cockpit also moves with you. Try it out!
The time has come!
The reception at the flight school is with a nice cup of coffee, tea or soda.
Theory
You start with an extensive explanation of the basics of flying. The instructor will answer the most important questions in this 'briefing': what are all the buttons, lights and other instruments for? Of course you can also ask all your questions. If you bring someone with you, he or she may of course also attend the introduction. Then you both know what you will experience 'in the air'. You do not have to pay extra for this.
The theory part always takes about 15 minutes, regardless of the time you choose for the practical part.
Practice
You then step into the simulator and fly to an airport of your choice. All airports around the world are available. Would you like to fly in the rain? Experience turbulence? Want to take off from your favorite vacation destination? Or simulate a technical failure? Everything is possible. You'll also have breathtaking views during your flight. From now on, you'll know how pilots feel as they fly you safely to your vacation or work destinations!
You choose how long the practical part takes. The minimum is 45 minutes. But the longer, the more fun of course!
Specifications
Spoken languages
This experience is available in these languages.
Persons
1 - 5
Season

All year

Only available during in its season. Please check the validity of your voucher.
Age
From 12 on
Participation
Flying lesson
How you participate: is it a flying lesson or do you fly along.
Time
Block Time
Indicates whether the time periods listed are block times or flight times. Flight time is the time in the air. Block time means from engine on to engine off, thus including taxiing.
Valid for
2 years
How long the voucher is valid after issue. Dit geldt alleen voor nieuwe bonnen.
Compare
Remarks
The time chosen is the time in the simulator. The theory part is added and takes about 15 minutes.
In addition to the student, up to 4 people can travel in the simulator, without extra cost. During the flight you can switch pilots.
You can also fly in the simulator in the evening or during the weekend.
You may take pictures or film yourself. Please note that the simulator tilts and turns.
Following this course is possible from 10 years, but we recommend at least 12 years. Below that age it is often difficult to look over the panel and you may have trouble with the complexity.
This lesson can also be given in English or French.
Location
Ostend
Also available in:
Lelystad
Reviews
| | | |
| --- | --- | --- |
| 5 stars | | 7 |
| 4 stars | | 0 |
| 3 stars | | 0 |
| 2 stars | | 0 |
| 1 star | | 0 |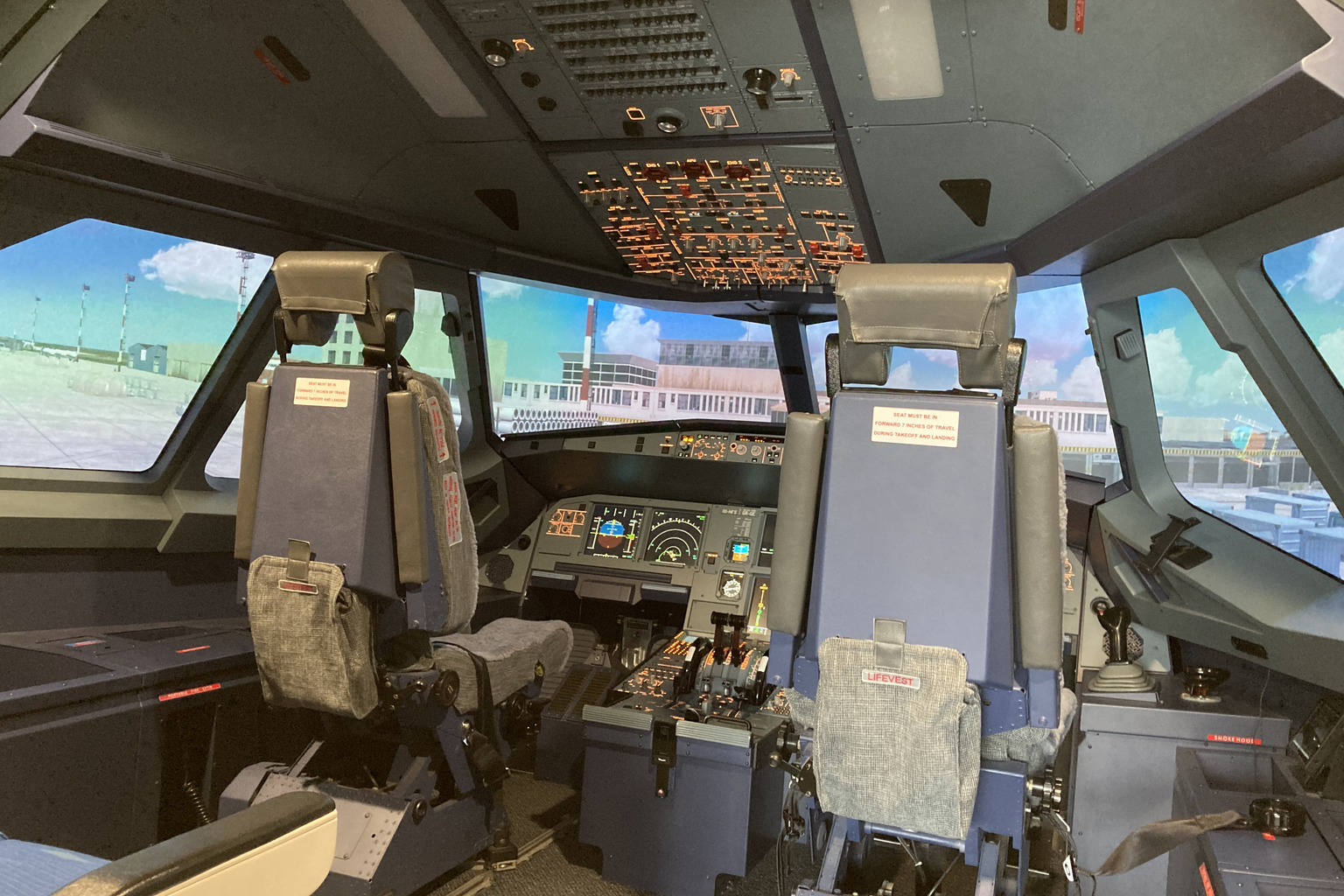 Jeroen van der Burg
Krimpen aan de Lek
· May 2023
Onze zoon heeft enorm genoten in de Airbus flight simulator. Door zijn ervaring met Microsoft Flight Simulator kon hij vrijwel gelijk 'echt' vliegen.
Vriendelijke ontvangst door studente pilotenopleiding.

Tip: voorkennis / ervaring m.b.t. vliegen is eigenlijk een must om de flight simulator te laten slagen.
Our son enjoyed the Airbus flight simulator immensely. Thanks to his experience with Microsoft Flight Simulator, he was able to fly 'for real' almost immediately.
Friendly reception by a pilot training student.
Translated from dutch.
View original
Lore
Jabbeke
· March 2023
Heel vriendelijk ontvangst! Goede begeleiding & hele fijne ervaring!
Simulatie beweegt mee met de richting.

/
Very friendly welcome! Good guidance & very nice experience!
Simulation moves with direction.

/
Translated from dutch.
View original
Ramon
Brussels
· August 2022
This was another incredible experience for me in a full-motion sim, my third one. I had a 4-hour session where I learnt a ton about the manual maneuvering of the aircraft. Prior to the session I prepared myself during the previous two months with FSLABS as much as I could. All this preparation really payed-off during the session.

We started all systems of the aircraft at Ostend airport, did some touch-and-goes, then headed to Brussels, one more touch-and-go there and a final stop. During this part of the session I could deeply experience how to manually fly the aircraft and gain more experience with engaging the Final Approach mode.

The second part was the incredible one. We started with Munich-Innsbruck and the famous Circle-to-Land approach on rwy 08. We had live weather with lots of clouds, heavy rain as well as some intense turbulence and winds. The weather, the manual flying of the aircraft and the final turn on the valley felt so realistic that I still cannot believe it. Even the instructor made remarks about how realistic the whole thing was. And I made a correct landing. It was truly AMAZING!!!

Then we did Gibraltar, Jersey at night with poor visibility and Santos Dumont in Rio de Janeiro with the steep turn in front of the hill and low altitude next to the sea. All of them were also successful.

Then I wanted to experience a Rejected Take-off and also an Engine Fire right after Take-off. We did both in Nice, France. The instructor guided me through all the steps and everything run very smoothly. Super interesting to experience all that in person.

And we made a final landing in San Sebastian, which was very cool too.
I couldn't enjoy the entire session more than what I did. It was extremely rewarding.

The instructor was phenomenal. He's very knowledgeable with a ton of experience and a very strong proactive and helping attitude.

The facilities of the company where the sim is located as well as the simulator itself are very well maintained.

Super advisable experience for anyone eager to know how to fly an Airbus.

Just a few small things that didn't work in the sim during the session, but that was really not important. All the rest was top-notch.
Bultinck Jeroen
Oostende
· August 2022
Een eerste kennismaking naar meer…
Ik kom zeker terug voor een langere vlucht.
Professionele begeleiding, men speelt in op jouw ervaring en of behoeften!

Eventueel een mogelijkheid voorzien om een drankje (fris) of koffie te kopen
A first introduction to more...
I will definitely come back for a longer flight.
Professional guidance, one responds to your experience and/or needs!

Eventually provided an opportunity to buy a drink (soft drink) or coffee
Translated from dutch.
View original
· July 2022
In 1 woord: geweldig!
De simulator op zich: indrukwekkend.
De instructeur: fantastisch!
De hele ervaring: super - top!!

Geen.
In 1 word: great!
The simulator itself: impressive.
The instructor: fantastic!
The whole experience: super - top!!

No.
Translated from dutch.
View original
Matthias
Turnhout
· May 2022
Geweldige 1ste kennismaking met vliegen! Ga dit zeker nog eens doen.
Je mag alles zelf uitvoeren. Je vliegt echt volledig zelf met het vliegtuig. Instructeur legt alles heel goed uit
Great 1st introduction to flying! Definitely going to do this again.
You get to do everything yourself. You really fly the plane all by yourself. Instructor explains everything very well

.
Translated from dutch.
View original
5.0 (7)
Fly in a professional simulator. This flight simulator moves while flying, so you can 'feel' the plane.
No experience needed

27,022 bought

Specialist in flying lessons

English speaking instructors