4.9 (245)
Flying lessons without passengers. Fly with an instructor in an airplane for two people.
The Basic Flying Lesson in the sports plane is one of the most bought experiences. And with good reason! It is the most fun way to get acquainted with flying.
Locations
The flying lessons are flown from Lelystad. In terms of flight movements, Lelystad is the busiest Dutch airport after Schiphol. Lelystad Airport is nowadays a controlled field, this means that air traffic control keeps an eye on everything. Therefore, flying from Lelystad is just like flying from a big airport. There is always plenty of activity and you can enjoy all kinds of aircraft that are constantly flying back and forth. This will make you look forward to your own flying lesson even more.
State-of-the-art aircraft
You will fly in a state-of-the-art aircraft with the latest equipment on board. At the same time, this is a lightweight and compact aircraft. This makes it extremely manoeuvrable and it steers very directly. The smallest steering movements have an immediate effect. The ideal combination for a sporty aircraft!
The time has come!
From the flight school you have a great view of the runway. Enjoy the hustle and bustle of the airport. This will get you completely in the mood! In consultation with the instructor you decide where you will fly to. Maybe you can fly over your home town. Below is a map of the Netherlands, showing how far you can fly.
Theory
You start with an explanation of the basics of flying. The instructor will answer important questions in this 'briefing'. How does an aircraft stay in the air? How do the pedals work? What are all the buttons and gauges for? Of course, you can also ask any questions you may have. If you bring someone along to watch you go up in the air, he or she can of course also attend the introduction. Then you both know what you will experience in the air. You do not have to pay extra for this.
The theory part always takes about 20 minutes, regardless of the time you choose for the practical part.
Practice
After the theory part, you'll go to the plane with your instructor. First, you check together whether the aircraft is ready for departure. Then you drive to the runway, this is called taxiing. Through the headphones you can hear the instructor and the control tower. The instructor asks the control tower for permission to take off. And then the moment has arrived! In the air, you can fly the plane by yourself. You can fly everything by yourself except for the last part of the landing. Of course, the instructor will help you with everything. He will take over if you want to look outside. Or if you want to take pictures or a video.
You choose how long the practical part takes. The minimum is 20 minutes, but the longer the better!
Specifications
Spoken languages
This experience is available in these languages.
Persons
1
Season

All year

Only available during in its season. Please check the validity of your voucher.
Age
From 14 on
Min. height
1.45 m
Minimum height of the participant
Max. length
1.95 m
Maximum height of the participant
Max. weight
100 kg
Maximum weight of the student, including clothes. For safety.
Participation
Flying lesson
How you participate: is it a flying lesson or do you fly along.
Time
Block Time
Indicates whether the time periods listed are block times or flight times. Flight time is the time in the air. Block time means from engine on to engine off, thus including taxiing.
Valid for
2 years
How long the voucher is valid after issue. Dit geldt alleen voor nieuwe bonnen.
Compare
Remarks
This flying lesson is in a two-person aircraft. No passengers can therefore fly along besides the student
The time chosen is the time in the plane. Allow about 40 minutes for theory, preparation and so on.
There will be flying only when there is sufficient visibility and when the wind is not too strong.
On the day of your lesson, call the location to see if we can fly safely. You will receive the phone number with your reservation
Depending on the (weather) conditions and crowds at the airport, agreed times may be slightly delayed
Lessons can also be given in English
For gift vouchers sold before 16 January 2023, a fuel surcharge applies in Lelystad. If you buy your gift voucher now, the fuel surcharge is included in the price. The surcharge only applies to Lelystad and is €10 per flight hour. If you fly for a shorter time it is less, so for example €5 for a half-hour flight.

At this location, identification is required; please bring your ID card or passport. A driving licence is not sufficient at this location
For weekends and holidays there is a surcharge of € 15 per flight. You can pay this at the flight school when you come to fly.
Click on the name to see how far you can fly in:
20 minutes
30 minutes
45 minutes
60 minutes
75 minutes
90 minutes
Reviews
| | | |
| --- | --- | --- |
| 5 stars | | 222 |
| 4 stars | | 17 |
| 3 stars | | 5 |
| 2 stars | | 0 |
| 1 star | | 1 |
Marko
Amersfoort
· September 2023
Hele gave ervaring! Vliegen was altijd al een droom van me geweest en hiermee de eerste stap gezet.
Op het opstijgen, landen en tweetal speciale maneuvres na, voornamelijk zelf de controle gehad over het toestel.

De GoPro vergeten helaas.
Very cool experience! Flying had always been a dream of mine and this was the first step.
With the exception of take-off, landing and two special manoeuvres, I was mainly in control of the aircraft.

Forgetting the GoPro unfortunately.
Translated from dutch.
View original
Nathalie
Zeewolde
· August 2023
GEWELDIG! Echt heel erg leuk. Heb ook in een heli gevlogen maar dit vond ik nog leuker! Hele leuke jonge instructeur ook, complimenten hoe hij alles deed.
Boven mijn eigen huis gevlogen

Niets
GREAT! Really great fun. Have also flown in a helicopter
But I liked this even more! Very nice young instructor too, compliments how he did everything.

Flew above my own house|nothing
Translated from dutch.
View original
· August 2023
Fantastisch en een mega fijne en enthousiaste piloot.
Gaaf, fijne piloot, fantastische ervaring

Niks!
Fantastic and a mega fine and enthusiastic pilot.
Great, fine pilot, fantastic experience

Nothing!
Translated from dutch.
View original
Dennis
Amsterdam
· August 2023
Het was een geweldige ervaring.
It was a great experience.
Translated from dutch.
View original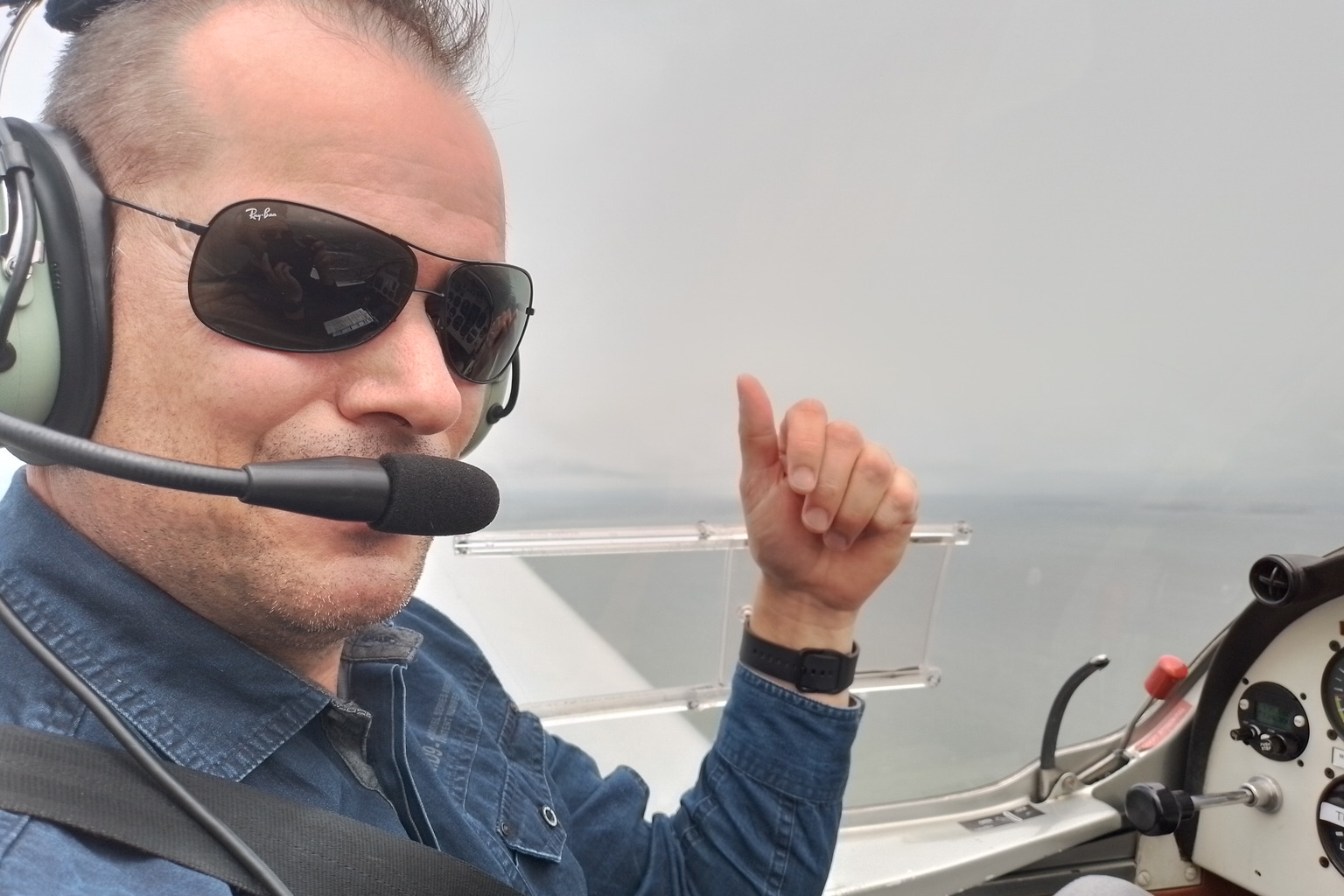 Ingmar van Dijk
Ridderkerk
· August 2023
Geweldig goed!
Goed toestel (at3), duidelijk zicht.
Instructeur was heel duidelijk met de vlucht.
Gaat het zeker nog een keer doen.

Eigenlijk niet.
Freek van Hees
Waddinxveen
· July 2023
Superleuk! Mooi vliegtuig en erg mooi zonnig weer. Leuke, jonge instructeur. Gelijk een leuke "klik" met Koen.
Super fun! Nice plane and very nice sunny weather. Nice, young instructor. Immediately a nice "click" with Koen.
Translated from dutch.
View original
4.9 (245)
Flying lessons without passengers. Fly with an instructor in an airplane for two people.
No experience needed

29,021 bought

Specialist in flying lessons

English speaking instructors