5.0 (52)
Jump together with an instructor from a height of 3 kilometers. With free fall!
A tandem jump is the way to get acquainted with parachuting (skydiving). You jump out of an airplane with an instructor from a height of 3 km.
Locations
You are welcome at Hoogeveen airport. The airport has one runway with a length of 1,080 m (3,543 ft): the longest grass runway in the Netherlands. Skydiving is also available in Texel, Ameland, Midden-Zeeland and Breda.
Do you dare?
Skydiving cannot be compared to anything else. It is an unforgettable, sensational experience that you must have done at least once in your life. Almost all daredevils have it on their bucket list. When you arrive at the airport you get immediately in the mood. There is always plenty of activity and you can enjoy all kinds of planes that are constantly taking off and landing. In addition, you will of course see many skydivers, you can admire their entire jump from start to finish. This way you will get even more excited about your own jump!
Theory
You jump together with an experienced instructor, also known as a tandem master. This means you don't need any skydive experience yourself. You get a clear explanation before the jump, so you know exactly what is expected of you. Safety first of course. You put on an overall and a harness. And very trendy glasses. Otherwise you will not see anything because of the wind.
Practice
When everything is checked, you get on the plane and climb to a height of 3 kilometers. From there you have a beautiful view. You will be attached to the instructor and ready for the jump. The jump starts with a free fall. You thereby achieve speeds of up to 200 km / h. This takes about half a minute and then the large parachute opens. You float down slowly on the parachute. Enjoy the view and listen to the sounds on the ground. It is a surreal experience. You make the perfect landing under the watchful eye of your family and friends.
For whom
You do not need any experience for the tandem jump. You jump together with an experienced instructor (the tandem master). He or she has made thousands of jumps and keeps everything under control. There are a number of requirements regarding age, health and physique:
a maximum weight of 100 kg and a maximum length of 2.00 meters applies. This includes clothing and shoes, as you go on the plane
skydiving is possible from 14 years old
written permission from one of the parents is required under the age of 18
there is no maximum age, as long as you are reasonably mobile and you meet the other requirements, you can still jump well beyond the retirement age
skydiving during pregnancy is not recommended
before landing it is important that you can raise your knees to the chest
Jump together with your friends?
It is of course completely cool to share this experience with friends or family. You can usually jump together. From Hoogeveen 4 duos can jump out of the same airplane. In october, the maximum is two tandems per plane. Please note that the actual maximum may vary depending on the aircraft in use and availability of instructors. If you want to skydive with a larger group, we suggest you have a look at skydiving Texel.
Extras

You can also have this unique experience recorded by a cameraman (or woman). The cameraman films the briefing, on board the aircraft and the jump. He films the entire jump including the free fall and landing. The cameraman can film multiple skydivers of your party on the ground and on the plane. In the air he can only focus on one tandem. Afterwards the images will be edited and you will receive a USB-stick.
We can send a gift package with our theory booklets "Hoe vliegt een Vliegtuig" (How a plane flies) and "Theorie helikopter vliegen" (How a helicopter flies) by normal mail. So you have something tangible to give and the fun can start right away! This way the fun can start right away! Note: the booklets are only available in Dutch.
Select the options when customizing of your jump.
Specifications
Persons
1 - 4
Season

March until october

Only available during in its season. Please check the validity of your voucher.
Age
Min. 10 years
Min. height
1.40 m
Minimum height of the participant
Max. length
2.00 m
Maximum height of the participant
Max. weight
100 kg
Maximum weight of the student, including clothes. For safety.
Participation
Tandem jump
How you participate: is it a flying lesson or do you fly along.
Valid for
1.5 year
How long the voucher is valid after issue. Due the the Corona crisis, the vouchers for this experience are longer valid: one and a half year instead of one. Dit geldt alleen voor nieuwe bonnen.
Compare
Prices
1 persons
€ 199
2 persons
€ 389
3 persons
€ 579
4 persons
€ 769
5 persons
€ 959
6 persons
€ 1,149
7 persons
€ 1,339
8 persons
€ 1,529
Cost Skydive Hoogeveen
Remarks
Due to the Coronacrisis your voucher is valid for a longer period, which is 1.5 years. So you have plenty of time to make your appointment.
Skydiving is only possible with good weather conditions: good visibility, not too much wind and no rain
Call the planner the day of your jump if we can skydive. You will receive the telephone number after booking
Depending on the (weather) conditions and how busy it is there may be some delays
The total program takes approximately 2 hours
At 10,000 ft it is a bit colder than on the ground. You are so full of adrenaline that you don't even notice this
Request a quote if you want to jump with more than 7 people
This experience can also be followed in English
In October, you can only jump with 2 tandems at the same time. There are less tandem masters available in this month
On fridays, jumping starts from 12pm
Availability
Click on a day to check availability
Location
Hoogeveen
Reviews
| | | |
| --- | --- | --- |
| 5 stars | | 51 |
| 4 stars | | 1 |
| 3 stars | | 0 |
| 2 stars | | 0 |
| 1 star | | 0 |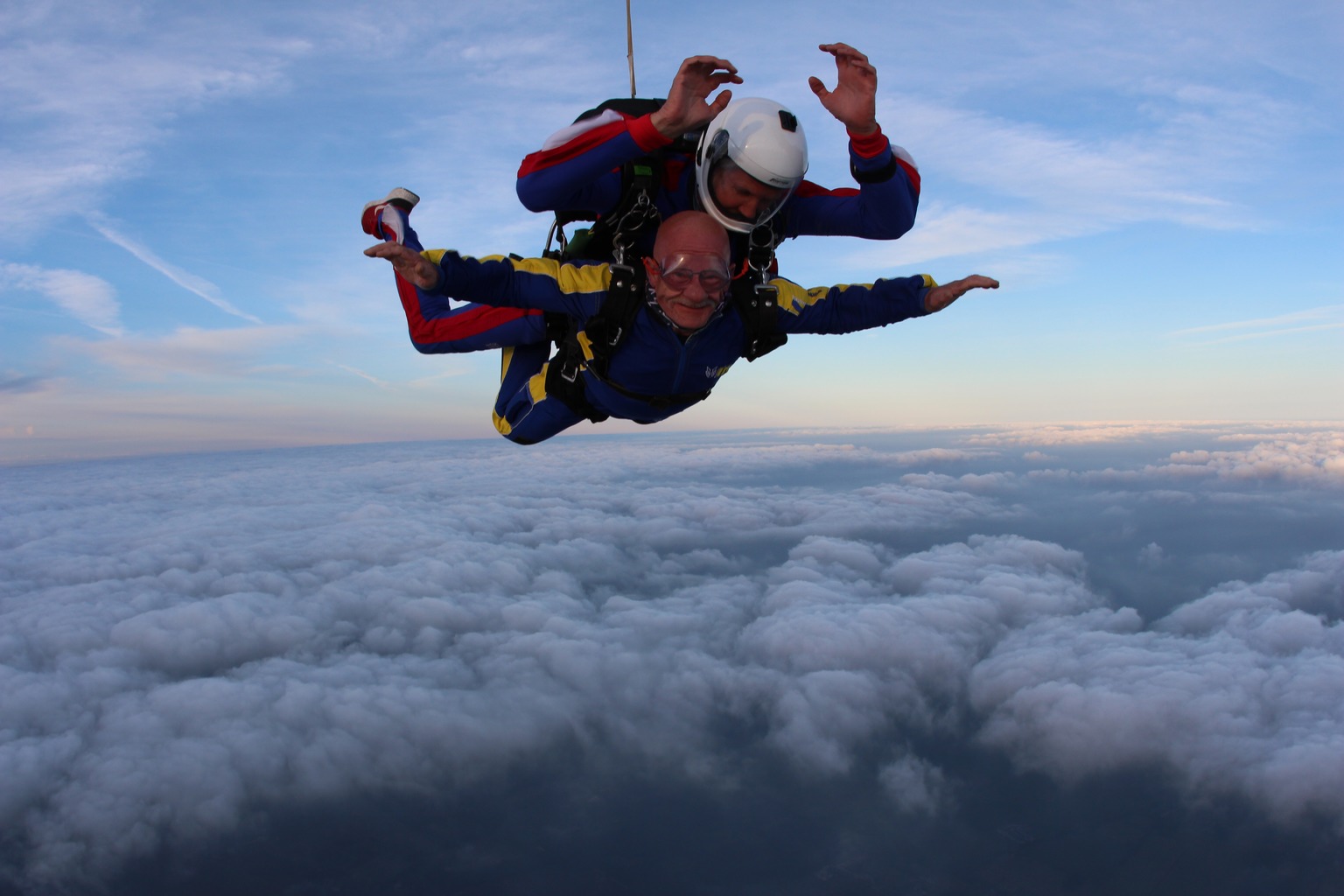 Harry Deuten
Hollandscheveld
· October 2021
Super
Alles

Lang wachten, ruim 2 uur na gemaakte tijd afspraak gesprongen
Joey en Rachael schrijver
Oude pekela
· September 2021
Enorm genoten, super ervaring. Zeer vriendelijke mensen die je echt op je gemak stellen. Alleen maar lof!!
Het gevoel dat de instructeurs je geven dat je echt iets speciaals gaat doen. Ze geven je vertrouwen dat het goed komt en daarom kun je er ook echt van genieten.

Wij hebben niet echte minpunten ervaren.
Peter van Gemert
Valthermond
· September 2021
Het was geweldig. De tandemmaster was goed en zorgde voor een echt fijne ervaring.
Tandemmaster

Meer ruimte op het terras.
Hantzsche
Emmen
· September 2021
Mooie ervaring
Vrije val

Lange wachttijden
Geen cameraman beschikbaar
Polscamera beelden mislukt
Henny Popkema
Waskemeer
· September 2021
Super ervaring!
Vrije val, uitzicht en goede begeleiding van de instructeur en een enthousiaste cameravrouw
Film is een aanrader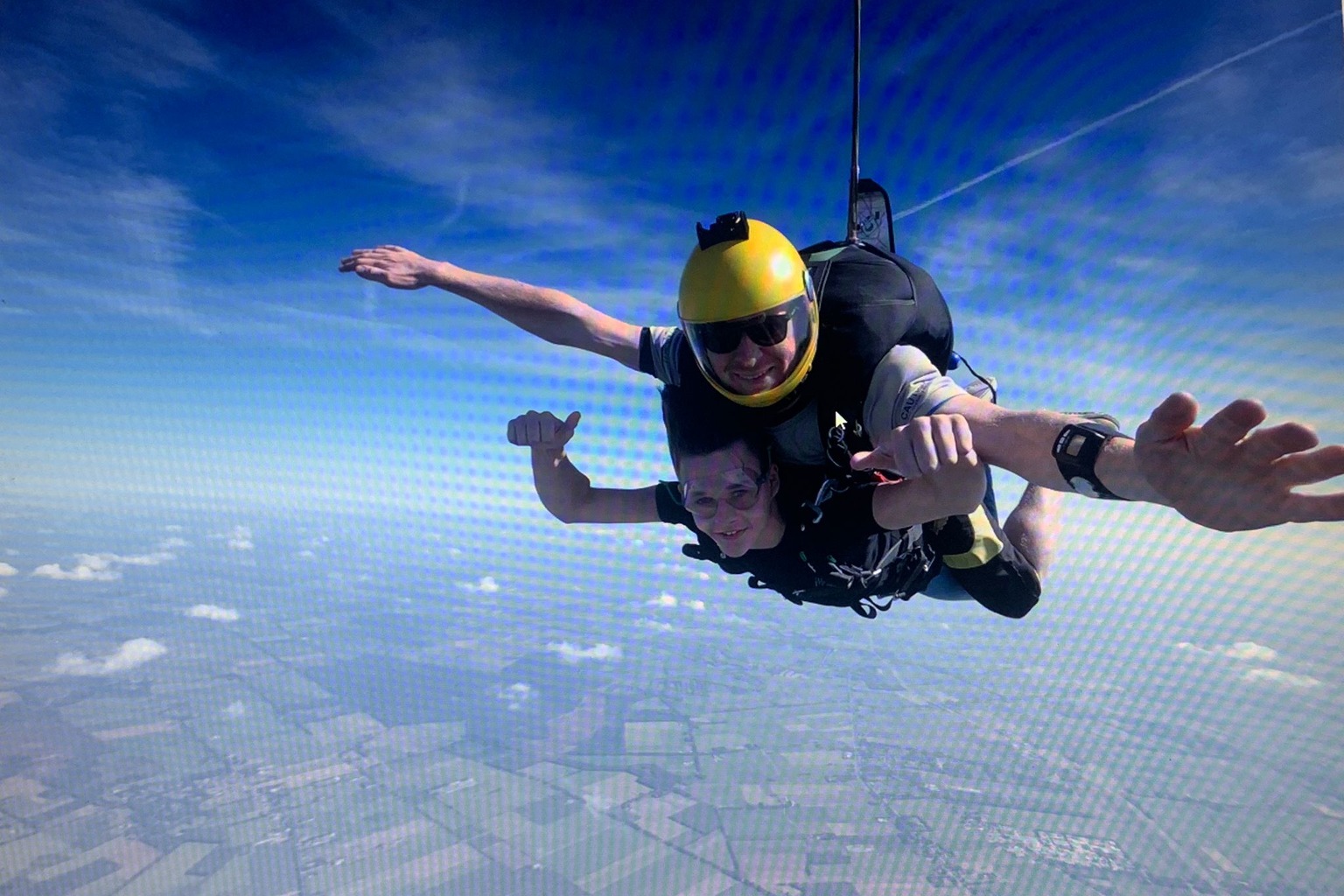 Alinfa Dubbink
Den Ham
· September 2021
Het was in één woord geweldig!!!
Wat een ervaring samen met mijn zoon Mart.
Prima uitleg. Bedankt tandemmasters Maurits en BertJan en de cameraman voor de mooie ervaring.
We komen nog een keer terug.

Geen minpunten, mocht voor ons iets langer duren..