5.0 (98)
Skydive above Breda with a tandem master. From a height of 3 kilometers, with free fall!
A tandem jump is the way to get acquainted with parachuting (skydiving). You jump out of an airplane with an instructor from a height of 3 km (9,000 feet).
Location
This adventure takes place from Breda International Airport, at Bosschenhoofd. The airport offers various forms of aviation, there is always a lot to see and experience. Parachuting is also available in Texel, Ameland, Central Zealand, and Hoogeveen.
Do you dare?
Parachuting cannot be compared to anything. It is an unforgettable, sensational experience that you must have done. Almost all daredevils have it on their bucket list. When you arrive at the airport you are immediately in the mood. There is always plenty of activity and you can enjoy all kinds of airplanes that are constantly taking off and landing. In addition, you will of course see many skydivers, you can admire their entire jump from start to finish. This way you will get even more excited about your own jump!
Theory
You jump together with an experienced instructor, also known as a tandem master. This means you don't have to have a skydive experience yourself. You get a clear explanation before the jump, so you know exactly what is expected of you. Everything is of course all about safety. You get to wear an overall and harness. And very trendy glasses. Otherwise you will not see anything because of the wind in your eyes.
The jump
When everything is checked, you get on the plane and climb to a height of 3 kilometers. From there you have a beautiful view. You will be attached to the instructor and ready for the jump. The jump starts with a free fall. You thereby achieve speeds of up to 200 km / h. This takes about half a minute and then the large parachute opens. You float down slowly on the parachute. Enjoy the view and listen to the sounds on the ground. It is a surreal experience. You make the perfect landing under the watchful eye of your family and friends.
For whom
You do not need any experience for the tandem jump. You jump together with an experienced instructor (the tandem master). He or she has made thousands of jumps and keeps everything under control. There are a number of requirements regarding age, health and physique:
there is a maximum weight of 100 kg including clothing and shoes, as you go on the plane.
skydiving is possible from 12 years old
written permission from one of the parents is required under the age of 18
there is no maximum age, as long as you are reasonably mobile and you meet the other requirements, you can still jump well beyond the retirement age
skydiving during pregnancy is not recommended
for the landing it is important that you can raise your knees to the chest
Jump together with your friends?
It is of course completely cool to share this experience with friends or family. You can usually jump together. From Breda 4 duos can jump out of the same airplane. Please note that the actual maximum may vary depending on the aircraft in use and availability of instructors. If you want to skydive with a larger group, we suggest you have a look at skydiving Texel.
Extras

You can also have this unique experience recorded by a cameraman (or woman). The cameraman jumps along and films your jump including free fall. This produces very cool images. Afterwards you will immediately receive the recordings on a USB stick. The cameraman can film multiple people of your party on the ground and in the plane. In the air he can only focus on one duo.
We can send a gift package with our theory booklets "Hoe vliegt een Vliegtuig" (How a plane flies) and "Theorie helikopter vliegen" (How a helicopter flies) by normal mail. So you have something tangible to give and the fun can start right away! This way the fun can start right away! Note: the booklets are only available in Dutch.
Select the options for customizing of your jump.
Specifications
Persons
1 - 4
Season

All year

Only available during in its season. Please check the validity of your voucher.
Age
Min. 12 years
Max. weight
100 kg
Maximum weight of the student, including clothes. For safety.
Participation
Tandem jump
How you participate: is it a flying lesson or do you fly along.
Valid for
1.5 year
How long the voucher is valid after issue. Due the the Corona crisis, the vouchers for this experience are longer valid: one and a half year instead of one. Dit geldt alleen voor nieuwe bonnen.
Compare
Prices
1 person
€ 214
2 persons
€ 424
3 persons
€ 633
4 persons
€ 842
5 persons
€ 1,051
6 persons
€ 1,260
7 persons
€ 1,469
See all prices
Remarks
Due to the Coronacrisis your voucher is valid for a longer period, which is 1.5 years. So you have plenty of time to make your appointment.
Skydiving is only possible with good weather conditions: good visibility, not too much wind and no rain
Call the planner the day of your jump if we can skydive. You will receive the telephone number after booking
Depending on the (weather) conditions and how busy it is there may be some delays
The total program takes approximately 2 hours
At 10,000 ft it is a bit colder than on the ground. You are so full of adrenaline that you don't even notice this
This experience can also be followed in English
Availability
Click on a day to check availability
Location
Breda
Reviews
| | | |
| --- | --- | --- |
| 5 stars | | 95 |
| 4 stars | | 2 |
| 3 stars | | 1 |
| 2 stars | | 0 |
| 1 star | | 0 |
Herman Oldenhuis
Dordrecht
· September 2021
Het was geweldig: goede begeleiding en een geweldige sprong
Het moment dat je uit het vliegtuig gaat

Prima zo!!
· September 2021
Helemaal super iets wat je een keer moet mee maken.
De kick die je krijgt van je vrije val en het uitzicht.

Tip is dat je oordopjes in doet. De oren zijn dicht geklapt en een dag laten is dat nog zo waardoor ik nog duizelig ben.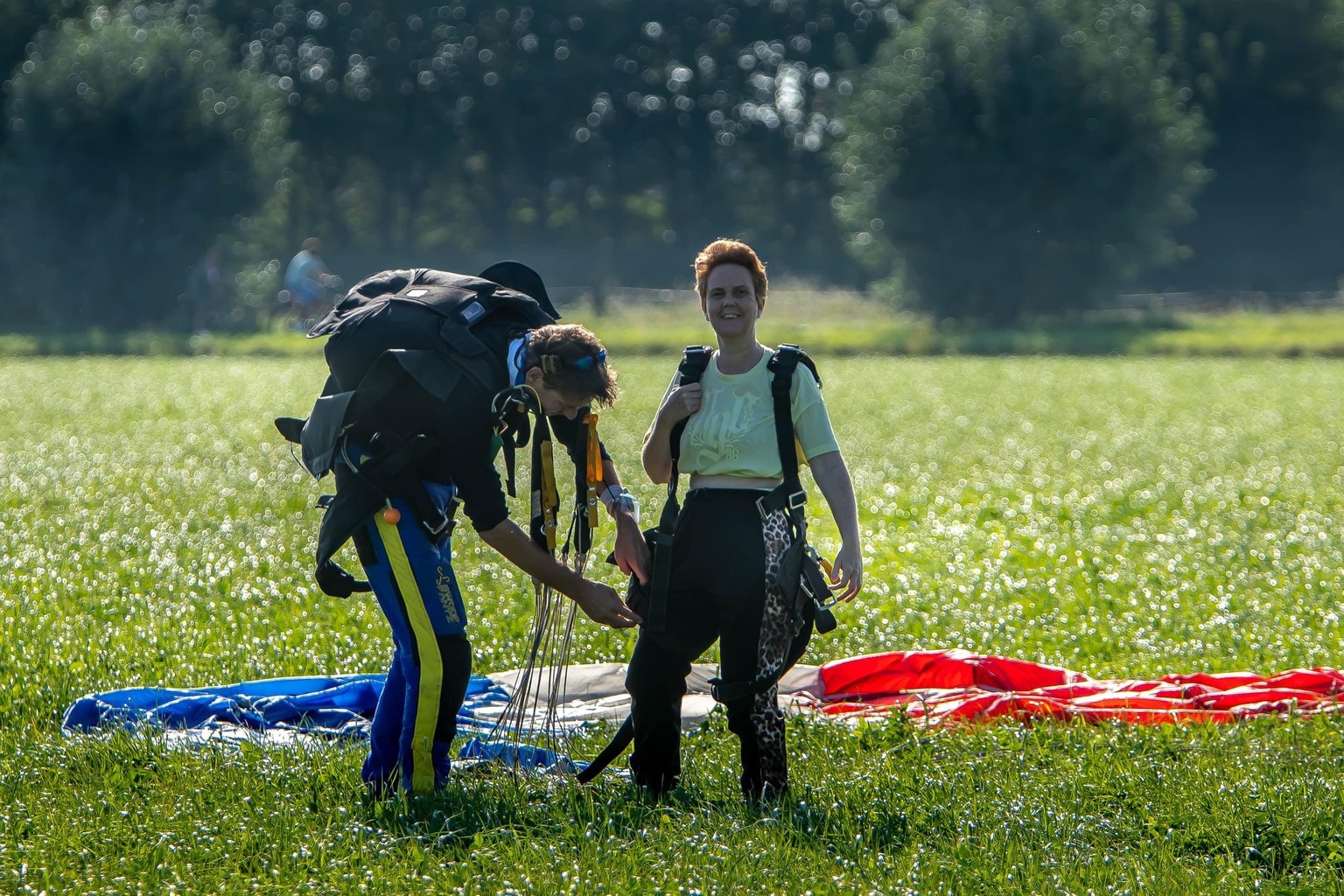 Carla Oostvogels
Oss
· September 2021
Super
Wil zo nog een keer

Geen idee