Helicopter flying lesson Lelystad
Lelystad
5.0 (24)
Flying lesson in a two-person helicopter. Fly together with an instructor, without passengers.
Take a seat behind the control stick of a helicopter and experience what it is like to fly in this complex machine. You fly in a Guimbal Cabri G2. This is a two-person helicopter, so you fly with the instructor, without passengers.
Location
The flying lesson is flown from Lelystad. In terms of number of flight movements the second busiest Dutch airport. There is a cozy restaurant at the airport with fantastic views of the runway. There is always plenty of activity and you can enjoy all kinds of aircraft that fly continuously. That way you get even more in the mood for your own flying lesson.
Special machine
Flying in a helicopter is unique! Only helicopters can be completely suspended in the air. The view from a helicopter is fantastic. However, they are very complex machines. That makes the construction and maintenance expensive. That is why flying lessons on a helicopter are more expensive than on other aircrafts.
Ready for take off?
The reception at the flight school is with a nice cup of coffee, tea or a soft drink. You have a great view of the runway. Enjoy your drink and all the planes at the airport.
Theory
You start with an explanation about the basis of flying. The instructor answers important questions in this 'briefing'. How do you control a helicopter? What are all buttons and indicators for? You learn about the main and tail rotor. How you can operate it with the collective, cyclic and the foot control. Of course you can ask all your questions yourself. Do you come to the flight school with your partner, friend and / or family member? Then he / she may of course also join. Then you all know what you are going to experience in the air. You do not have to pay extra for this.
The theoretical part always takes about 30 minutes, regardless of the length of time you choose for the flight.
Flying
After the theory you go to the helicopter with the instructor. First you check together whether the aircraft is ready for departure. Together with the instructor you determine where you are flying to. Below you will find a kaart of the Netherlands indicating how far you can fly. Then you taxi to the start of the runway, you fly low above the ground, because the helicopter has no wheels. You can hear the instructor and the control tower through the headphones. The instructor asks permission from the control tower to leave. And then you are going to take off! Once in the air you can operate the helicopter yourself. You can fly everything yourself except the last part of the landing. Of course, the instructor helps you everywhere. He will take over if you want to look outside. Or if you want to take pictures or video.
You choose yourself how long the practical part lasts. The minimum is 30 minutes. But the longer, the more fun of course!
Specifications
Spoken languages
This experience is available in these languages.
Persons
1
Season

All year

Only available during in its season. Please check the validity of your voucher.
Age
From 15 on
Max. length
2.10 m
Maximum height of the participant
Max. weight
105 kg
Maximum weight of the student, including clothes. For safety.
Participation
Flying lesson
How you participate: is it a flying lesson or do you fly along.
Time
Block Time
Indicates whether the time periods listed are block times or flight times. Flight time is the time in the air. Block time means from engine on to engine off, thus including taxiing.
Valid for
2 years
How long the voucher is valid after issue. Dit geldt alleen voor nieuwe bonnen.
Compare
Remarks
This is in a helicopter for two people. In addition to the student and instructor, no passengers can join
The chosen time is the time in the helicopter. Allow about 45 minutes for theory, preparation and such
Flying is only possible with sufficient visibility and when there is not too much wind
Call the location the day of your flight if we can fly safely. You will receive the number with your reservation
This lesson can also be given in English
Location
Also available in:
Knokke-Heist
Click on the name to see how far you can fly in:
30 minutes
45 minutes
60 minutes
75 minutes
Reviews
| | | |
| --- | --- | --- |
| 5 stars | | 24 |
| 4 stars | | 0 |
| 3 stars | | 0 |
| 2 stars | | 0 |
| 1 star | | 0 |
· May 2022
Geweldig. Zeer enthousiaste instructeurs en goed verzorgd. Ik raad deze aanbieder aan!
Het vliegen natuurlijk... Maar ook de ontvangst en het enthousiasme.

Ik zou het niet weten.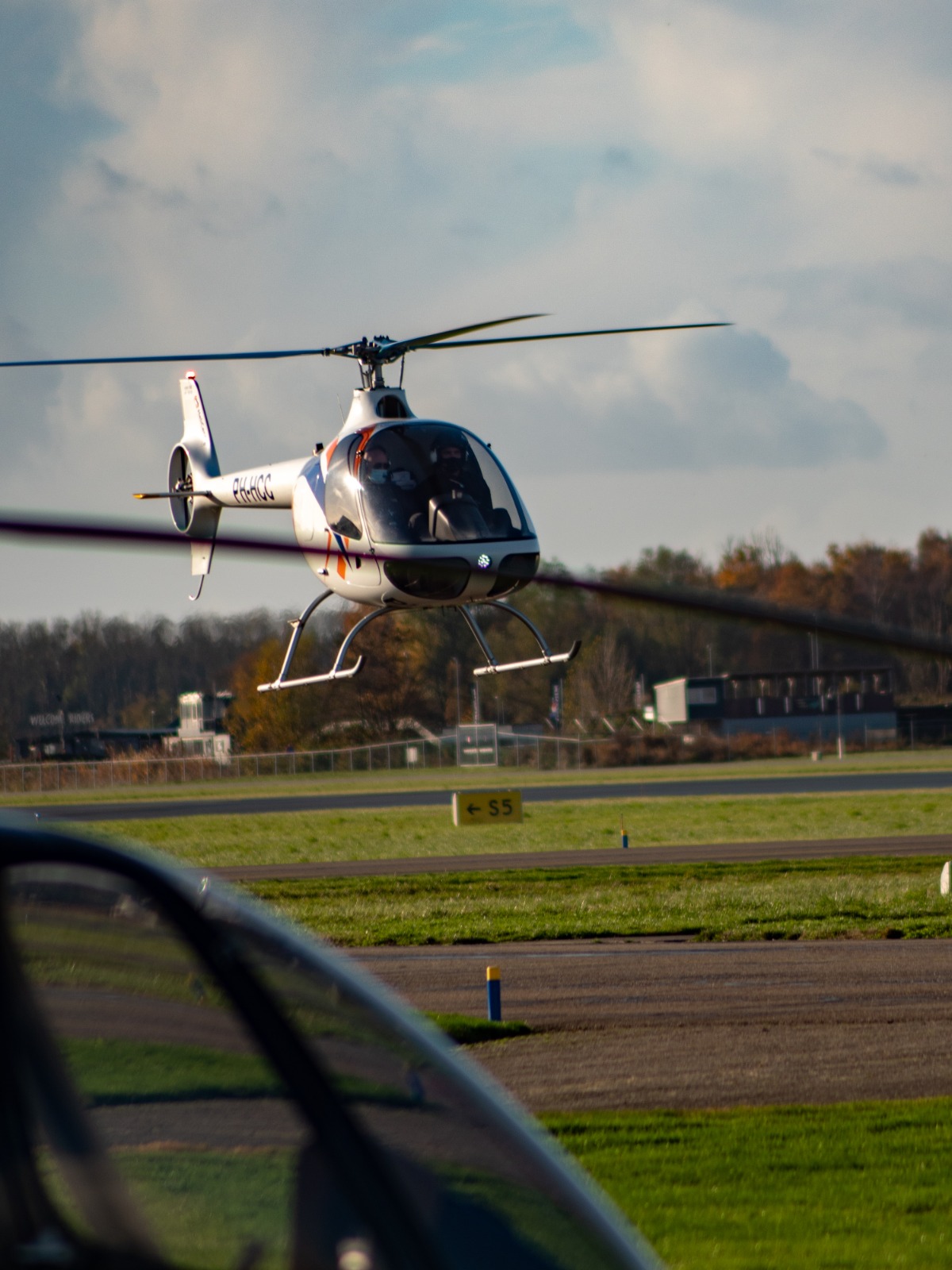 Joël
Rotterdam
· November 2021
Enorm leuke ervaring. Fijne instructeur die met veel enthousiasme aanstekelijk vertelde over de basisbeginselen van het helikopter vliegen.

Het vliegen zelf was ongelofelijk gaaf, zelfs voor de mensen die mee waren om te kijken. En het materiaal zag er piekfijn uit.

Dat de zon scheen en de lucht strakblauw was maakte het geheel compleet! Een prachtdag!
Enthousiasme en openheid van de instructeur en zijn collega's.

Geen minpunt, wel een tip.
Extra materiaal bij de uitleg zou het geheel nog levendiger maken.
Twan van der Meer
Rhenoy
· October 2021
Geweldig! Wat een super ervaring! Ik kreeg een duidelijke uitleg van de instructeur, waarmee ik al vrij snel de helikopter mocht besturen. Daarbij kreeg ik een prima begeleiding. Echt perfect! Toen ik weer op de grond stond, dacht ik maar één ding: Wanneer mag ik nog een keer? ;-)
Leuke, enthousiaste en kundige instructeur. Mooie helikopter. Duidelijke uitleg en daarmee een super ervaring. Zelfs het weer speelde netjes mee! En dat in oktober!! Top!

-
George Schalk
Middelbeers
· September 2021
Ik heb er van genoten, geweldige ervaring!
Professioneel, voor herhaling vatbaar
· August 2021
Bijzondere ervaring
· July 2021
Het helikoptervliegen was echt super. We kwamen iets wat te vroeg aan, dit was geen probleem en er werd gelijk drinken aangeboden. We kregen een hele duidelijk uitleg over hoe het vliegen in een helikopter werkt qua techniek en over hoe de besturing/instrumenten werken in de cockpit.

Hierna gingen we vliegen. De instructeur steeg op en nadat we op 1000 voet waren aangekomen mocht ik de cyclic(joystiq) overnemen.

In het begin oefenen met de helikopter level en in de wind te houden en wat later een stuk vliegen en wat bochten maken.

Hierna gingen we hoveren en mocht ik zelf de helikopter landen en weer opstijgen.

Er was ook nog de mogelijkheid tot een autorotatie, maar ik was te misselijk geworden van mijn eigen gestuur dus hebbem we dat overgeslagen ;)

Ik zou aanraden zeker voor de 45 min te gaan want de tijd "vliegt" voorbij.
De hele ervaring en eigenlijk hoeveel je zelf mag doen. Ik had verwacht dat het beperkt bleef tot even de cyclic vasthouden. Maar je mag zelf bijna alles doen :D

Ik vond het perfect.
5.0 (24)
Flying lesson in a two-person helicopter. Fly together with an instructor, without passengers.
No experience needed

22,823 learners gingen je voor

Specialist in vlieglessen

English speaking instructors